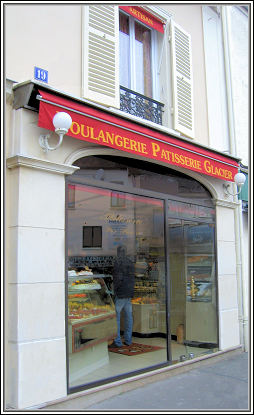 Aux Délices de Limours
Travail Artisanal confection à partir de fruits frais du jour. Grand choix de gâteaux toute l'année ainse que pour chaque occasion chocolats toute l'anné plus tous les de pâques.
Translation: Everyday we happily slave away in our bakery so you don't have to. Without exception, we make nothing less than culinary miracles with only the most select and the very freshest ingredients available. We pay so much attention to detail that every cake is a scrumptious work of art for your table; making every occasion a grand experience. We are no less discriminating in the vast assortment of fine chocolates we carry to tempt you with. Whether you enter for a simple baguette or for a custom-made cake, we guarantee you will leave satisfied!
Ok, so it doesn't say that at all, but if it did it would be an honest description.
I discovered this bakery the morning after we moved into our apartment. How I discovered it involved no searching, phone calls nor even a friendly neighbor's referral. Nothing more was needed than opening our front door. Immediately the aromas of warm baking breads and goodies waft into our home. Nearly every day the same delicious scent fills our courtyard. As a matter of fact,the only days when our courtyard smells of French lavendar and roses is when the Aux Délices is closed. This is how I determine when to put on my shoes and make a foray out to buy piping hot baguettes either in the morning, the late afternoon and on some days, both.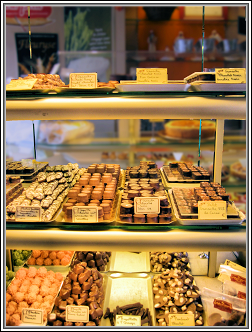 There are two bakeries in Limours. They alternate days off so that the village is never without fresh bread. I, however, am partial to Aux Délices de Limours and not the least because they entice me with aromas early in the morning. It is in no small part because Mme. Capon and her daughter are ever patient with my poorly spoken French. The women behind the counter are always smiling and greet everyone warmly even during the rush, and there is always a rush.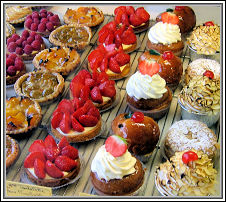 Actually, Aux Délices has a wide selection of tarts and pastries. But I must confess my weakness: I am in love with a particular cake they make that is called Opera. It is chocolate and luscious. Still, I am able to resist it if I make up my mind not to look at the cakes whenever I pass by the window. It is difficult. I have only just managed most of the time and to be honest I don't know how I do it. Just make sure that when you come to Limours you will try a portion of Opera for yourself. Indulge yourself!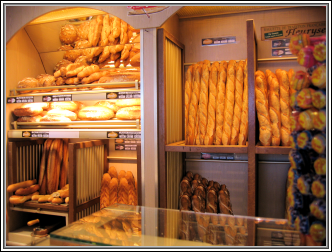 I find the French neighborhood bakery tradition wonderful and regret that it is no longer customary in the States. In France its not uncommon to see men, women or children, exiting a bakery and nipping the end off a still warm baguette. I can't even begin to count the number of nip-ended baguettes that have arrived in our home. Everyday since moving to France one of us makes a little quick trip to the local bakery to buy a fresh warm baguette. That doesn't mean, though, that there are only baguettes to be had. Aux Délices de Limours make a quite a few different types of bread and each are yummy!
As I have already written, one should prepare before going to shop and that also includes going to the boulangerie. You may want to invest in a long cotton or linen bag with a strap that allows you to carry it on your shoulder. You will need this bag for the 1-4 baguettes you will purchase. Although the baker will wrap a small paper around the middle of the baguettes you really don't want to carry them in that manner. That's because if the baguettes are warm they will fracture. It is much better to transport them in a reusable bag and you will be able to congradulate yourself of leaving a smaller carbon footprint too! But the truth of the matter is you will also need your hands free so that you will be able to carry your other purchases: a cake, a tart or perhaps 2 pain aux raisins? Well, of course you can have a croissant if you prefer. Just remember, on Thursday and Sunday mornings the market comes to town and there will be a line that extends out through the doors of both boulangeries and all the way down the both village blocks. Don't worry, the lines move rapidly and so far I have never reached the counter only to find out that they have ran out of baguettes. I've begun to think of it as a wonderful opportunity to catch up on all the local news while waiting for a warm baguette, except in the rain. On overcast days it is best to bring an umbrella, just in case.
Life is an adventure. Live it as though you are on the quest.
---
If you have any questions or suggestions regarding this site you may contact me through email at:
administrator@thedailybiscuit.com