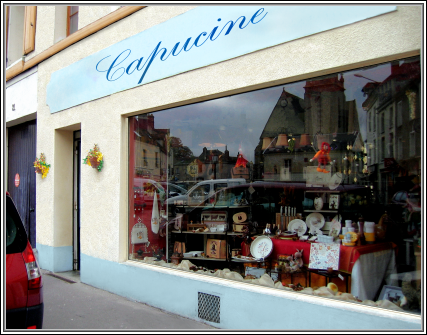 Capucine
This is a wonderful little gift and home decor store that is full of charm and romance. There are displays that remind me very much of a once loved woman's magazine in America titled 'Victoria'. Perhaps that is why I tried to emulate that very style of photography which was found in that particular magazine. As I've already confessed, I am not really very handy with a camera. Even so; I just couldn't help myself but to make an attempt.
Capucine offers more than just a pleasant visit to a graceful time period and that is because it does not focus on only one predetermined style or the mode of any one time. It's accurate to say that it is just not typical of gift stores you would be most likely to find in the USA. First, of course, it is the proprietress who is responsible for the atmosphere of the shop and unlike the common chainstore concepts in so much of the world now this is very much a personal shop. Whether you are visiting Paris for the first time or 100th time, as you make that special side trip to Limours (after reading this site, of course!) you'll want to make sure to buy yourself a very special memento to comemorate your discovery. You simply must come to Capucine because this is place you will find something unique and special.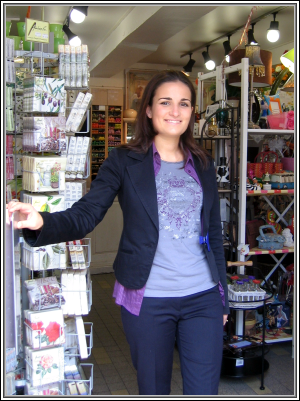 Oh, I know you have heard that before from all the chain stores in the world, but this time it is coming from me and I am not in either the retail or advertising business. Just consider me a neighbor going on and on about the great little shop she has discovered. It's the truth when I tell you that if you aren't able to find something in this shop that tickles your fancy, then it probably just doesn't exist.
The proprietress of this establishment is Delphine. She is simply one of the nicest women in Limours. She has that, oh, I don't know, je ne sais pas, flair for choosing wonderful merchandise and presenting it well. I think she changes the display in the large front window every 3 or 4 weeks. Everytime she does it seems everyone in town stops and spends time gazing at the display. It is a common practice in France that when the shops close for the evenings that shades or louvers are pulled shut over the windows. This is not the case at Capucine and that is why I often see people mosey over there during the evenings or on Mondays. It's all about the window display.
The back windows of her shop share in common the enclosed courtyard of the apartment where I lived. It was while I was making my first trip to the little grocery store for a cola that I caught a glimpse of some very nicely embroidered curtains in one of those windows. I was hooked right then and there. Although the curtain was certainly too small for our needs I just had to go in and see what other examples that little shop had. I was not disappointed with my new discovery. It reminds me of the shops found in Frederickburg and Kerrville, Texas. It's not the antiques, there are no antiques in Capucine, but it is a adventure of finding a person that has a vision for their shop and has made that vision happen.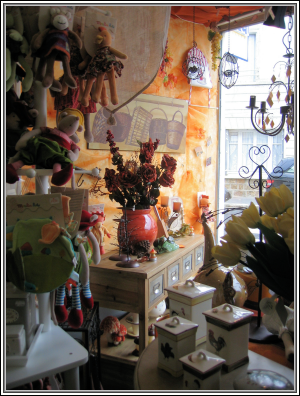 So what kinds of teasures might a person be able to find in Capucine? Let's start with the collector's perfume bottles because that has become my new default gift to my female friends and family back in the states. She carries a wide array and no two identical ones. Even last year, for Christmas, I found some perfume bottles that I thought my French family might enjoy. I am pleased to confirm that the gifts were well received. But there is more than just nick nacks. Delphine doesn't have 100 of the same items all lined up in a row gathering dust. So when the item is gone, it really is gone. The furniture she carries is comfortable and graceful. For me, at least, it is what we Americans would call the classic French romance style. The kitchenware is both whimsical and practical. I guess it would be safe to say that if your looking for something to change that house into your home then you most certainly should make a trip to Capucine. If you don't, by all means ask Delphine about it. Allow me to tell you a little story that will explain why you should ask Delphine.
We wanted to purchase a set of dinnerware but I didn't want to wander around hopelessly lost in Paris trying to locate a shop. I find that just the thought of trying to explain to a saleperson what I was hoping to find is quite intimidating when done in Paris. On the spur of the moment I thought to ask Delphine if she could direct me to a shop. Of course she could but she also got out a catalog and we went over the dinnerware right then and there. It is difficult to choose dinnerware from a catalogue but since we had already decided on white the choices were simplified. Still, I did want the set to be attractive and not just a simple white plate that you might find in any cafeteria or buffet.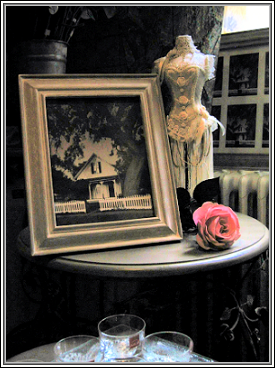 I know this will sound odd but I was really just thinking I had just saved myself a trip to Paris. With a sigh of relief I opted for the first white set I saw. Later that afternoon, there is a knock at our front door and when I opened it there stood Delphine in the pouring rain. She had found a style of dinnerware that she thought I would like better and she was absolutely right! I have seldom been on the receiving end of that type of service.
I know I have been raving on and on about this shop but it really is my favorite shop in all of Limours. As a matter of fact, I haven't found another to compare with it in all of France, but then again, I have been to all of France's charming small shops. This is also one of those little shops where I will constantly be displaying new (and better, I hope) photos when I have them. I'm not above using any excuse I can find for another opportunity idle time away in Capucine. I think you will like Capucine also.
As a rule of thumb, you should always carry as basket with you whenever you go shopping in France. Besides it being the French thing to do it makes perfect sense to not have to deal with those ugly plastic bags. However, in this particular case I won't be suggesting that you bring a basket with you on your visit to Capucine. You would need a very large basket indeed if you were to bring one. You might even be advised to bring a very strong man to carry it for you, but then that would likely limit your shopping time. It's better to find a nearby parking place and that is not difficult to do except on Thursday and Sunday mornings.
---
If you have any questions or suggestions regarding this site you may contact me through email at:
administrator@thedailybiscuit.com