Welcome to Limours
I have been living in Limours for just a little over two years and I loved it immediately! When we first moved here I thought I might be able to find a bit of information about Limours on the internet. There is an offical site in French but there is nothing about the beautiful and quaint village of Limours for us English speaking website tourists. The fact is, that Limours is just too lovely to not be shared with English speakers so I've decided to do something about that. But before we start our little tour please keep in mind, this is not a commerical site. All the stores you see pictured here are stores I shop at. Also, I am not a professional photographer either. Photography is not even a hobby for me. Even so, the photos will change, especially when the seasons change. It's just part of the tour.
The image above is of the go-around or rather the traffic circle close to where I live. It is the largest hub of the village. I walk my dog near there nearly every day. The gardeners seem to constantly be working on the various traffic circles throughout the village, so it would be a real shame to confine myself to only one. The plantings change with the seasons. That banner is a panorama made with 4 photos I took with a Canon PowerShot S50. I erased the powerlines but otherwise that is the circle you are seeing. Pretty, don't you think? The photos were taken on the 3rd of November 2009 just after a cleansing rain. The sunlight lasted about 20 minutes and then it was back to rain again. By the way, this banner will change when the plantings change.
You will find a map of Limours on MJC de Limours. It looks to be a relatively current map but it doesn't show much of the village up close and personal. I guess that is my station.
Limours is a small village of about 6,000 inhabitants. It's proper name is Limours en Hurepoix but I have never heard anyone refer to it as such. Everyone simply calls our village Limours. I call it home. It lies southwest of Paris, about an hour's drive away; depending on how fast you drive. Even though it is conveniently located near Paris it is just far enough away to feel like the countryside. It should feel like the countryside. There are large farm lands surrounding Limours on all sides and an old forest with walking trails. There are even cattle across the street from Champion (grocery store) on the outskirts of the village. It is quiet, just like Paris is not.
This is Limours' City Hall; Hotel de Ville. (Yes, I photoshoped it. There was a car right parked by the window next to the street.) The City Hall is easily available to anyone since it is on an island in the middle of the town square. On the other side of the building, which I didn't take a photo of, there is an area that is set aside for the outdoor dinners or entertainment is often held during some evenings and on some weekends.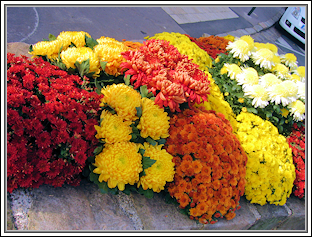 Flowers are very important to the French people. You will find flowers on the smallest windowsills of even the busiest cities. Limours seems to have beautiful flowers everywhere. I have seen some gardens that make me long for a glass of iced-tea and a good book. However there is no garden for me at the moment so I take great pleasure in walking around Limours just to enjoy the flowers. This is a closer view of a small island in front of the green grocer in town.
When I first arrived in France I noticed a small sign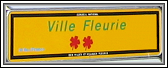 with anywhere from 1 to 3 flowers on it. It always seemed to be placed directly below the 'city limits sign' but only for some of the cities and villages. In other words this particular sign is was not always present. That is, perhaps, why I noticed it. When I inquired about it I was told that the cities and villages are awarded a certain amount of flowers standings based upon their current standing amongst all France. In other words, the more flowers and gardens that each city or village has then the better chance of earning another flower for their sign. It made sense to me since I had seen signs with only a portion of flower or a flower and a half. This is the total sum of my knowledge regarding this little sign. I have no idea whether it is current or if that's the total information available regarding the little flower signs. What I do know is that it is a very nice way to encourage friendly competition into investing in the local communities amongst rival cities because everyone can enjoy the end results. While I haven't seen a flower sign in Limours, it is my personal opinion that Limours should be, at the very least, a two flower sign.*Note:* I am just flabbergasted! Just yesterday, 25-March-2010, that Limours is 1 flower village. I just can't believe that this very charming village which has so many flowers hasn't been given 3 flowers! Certainly there has been an oversight or a mistake by whomever makes these sort of decisions because Limours deserves at least 2.5 flowers!---*Note:* Limours was awarded a second flower in 2011. Way to go Limours!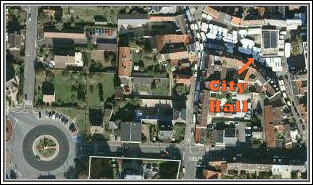 If you have visited the map link given above you will have noticed not too far from that large hub, a section to the north east, the Hotel de Ville (city hall) appears to be engulfed in a sea of white buildings. Well, those are tents and caravans of various vendors who have stationed themselves there for a market day. Market days occur on Sunday mornings from 9am - Noon and again on Thursday mornings from 9am - Noon. Just about everything imaginable can be found in the market stalls, from fresh flowers to fresh vegetables, from furniture to clothing. There are vendors for cheeses, purses, hair ornaments, cookware, spices, and etc. It is kind of like a swapmeet in the USA but it is quite professional and much cleaner. All of the merchandise is new and properly displayed. It really is a portable shopping mall! You can see for yourself:

This is the view that greets me from my front gate every Thursday morning at 9am; with the vendors still setting up their merchandise. On this day, it was chilly and rainy all day. I was happy to not have had to shop this particular day. On Sundays there are about a third more vendors and it is so crowded by 10am that just getting from one side to the other will take a half hour. People seem to bring their entire family and, I'm sure, a couple dozen friends with them. It is not unusual to see owners with their dogs. Of course, their dogs are on leashes but that doesn't stop them from poo'ing. I think my husband and I are the only persons in all of Limours who carry and use poop bags whenever we are out and about with our dog so do watch your step.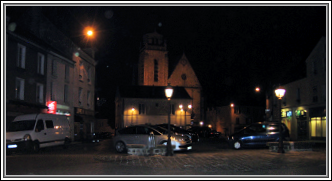 If you look over the market stalls you will see the roof of the Hotel de Ville.  Just beyond that you will have a nice but distant view of the church.  Actually, I did take several photos of the church the same day I took photos of the Hotel de Ville.  Unfortunately every single one of them have a big traffic sign right in front of me.  I can't believe I didn't notice that until after I downloaded my camera!  Oh, well, something to look forward to, I suppose, when the sun shines again.
There is suppose to be a bed and breakfast or hotel in Limours, but I have no idea what it is called or where it is. All I can tell you is that Limours is filled with friendly people who make life more enjoyable. This community is strong and vibrant. When we move from here, and we will, it is my wish to pick Limours up, put it in my pocket, and unpack it when we arrive at our home. I love Limours and if you ever have the opportunity to come visit France, perhaps you will visit and love Limours also. Until then: Bonne Journee!
---
If you have any questions or suggestions regarding this site you may contact me through email at:
administrator@thedailybiscuit.com